Make something fun!
Check it out. In my spare time, I'm building a Hummer. Well, not an AM General H1 Hummer, but a replica.
I got the idea last year when I was looking around the internet and found two other people who had done it. Here: Built on a F150 Chassis, and here: http://www.tremormuv.com.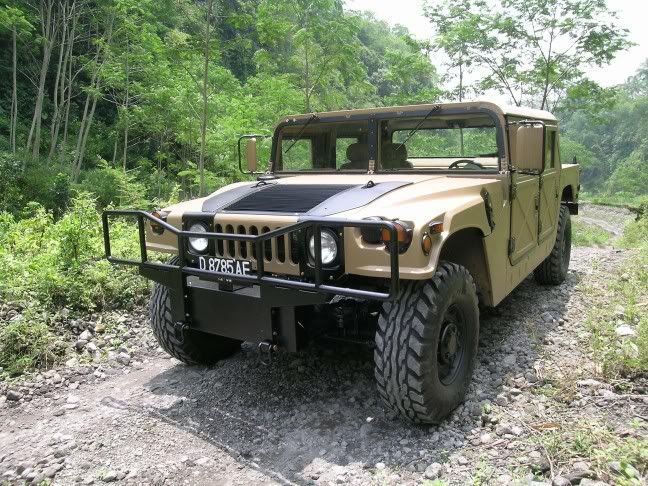 I thought, "hey, if they can do it, why can't I?" So, I bought a 1984 Suburban for $50,, ripped off the body panels, and began the transformation.
As for the details, I haven't decided what the details will be yet. I still have some time. From the side it will look like a Hummer. The front and rear views will give away the solid axle 4wd Suburban chassis. Otherwise, my goal is for it to look authentic, just as any other replica should.
The frame and body panels will be steel—none of that fiberglass kit stuff—mounted on a Suburban chassis. I may end up doing the plans build from TremorMUV, or I might just strike out on my own and build it all from scratch. Not quite sure yet. I have my two hands, some hard working helpers, a welder, and a shop that my wife doesn't mind if I keep cluttered up with a project truck.
Some things I definitely need to do are the following. The engine needs to be relocated back a few inches and the front and rear of the frame rails will be cut to match the H1's length. Actually I bought it without an engine simply because it would make tear-down easier and I haven't decided on gasoline or diesel. I still have the THM400 that was sitting in the trunk. I need to fab up the entire body to sit on the frame. The body mounts need moving and then I'll be looking for some surplus parts—hood, doors, etc., whatever I don't build. The wheels will need replacing.
I'll try to post updates regularly, but as this is a project based on extra funds, it may be slow going and far between.
Want to help me along?